You only have 7 seconds to make a first impression, whether through your website or when networking. This is a story of two businesses and how their collaboration boosted their mutual revenues, branding and that very important first impression.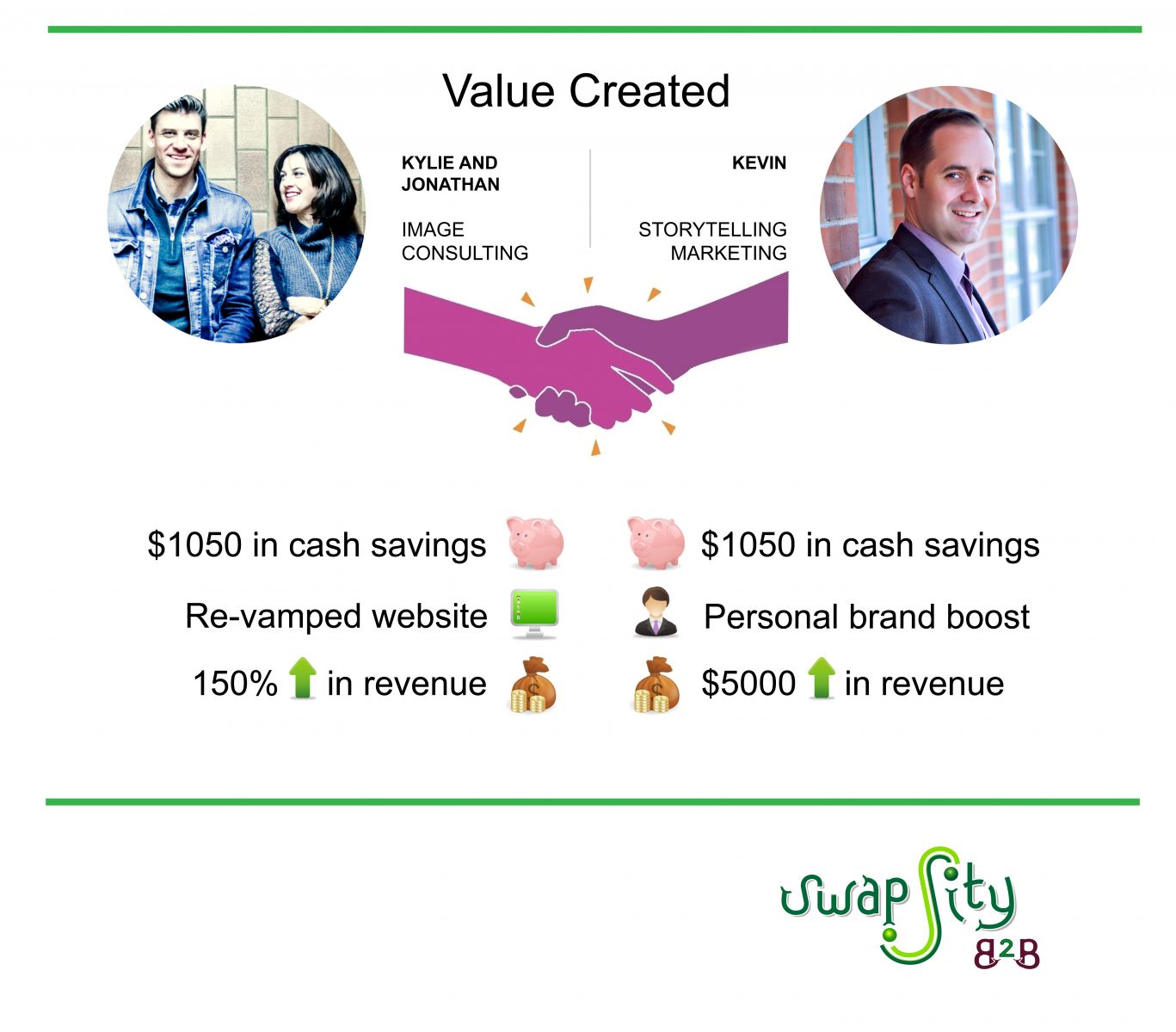 Meet Kevin the Story Architect
With thousands of presentations under his belt and having perfected the art of pitching, Kevin was pleased with his business. He was creating impact for an expanding client list and growing his brand. Yet, as he was about to find out, one strategic business swap would leapfrog his business, add $5,000 to this solopreneur's bottom-line, and boost his confidence in a new way.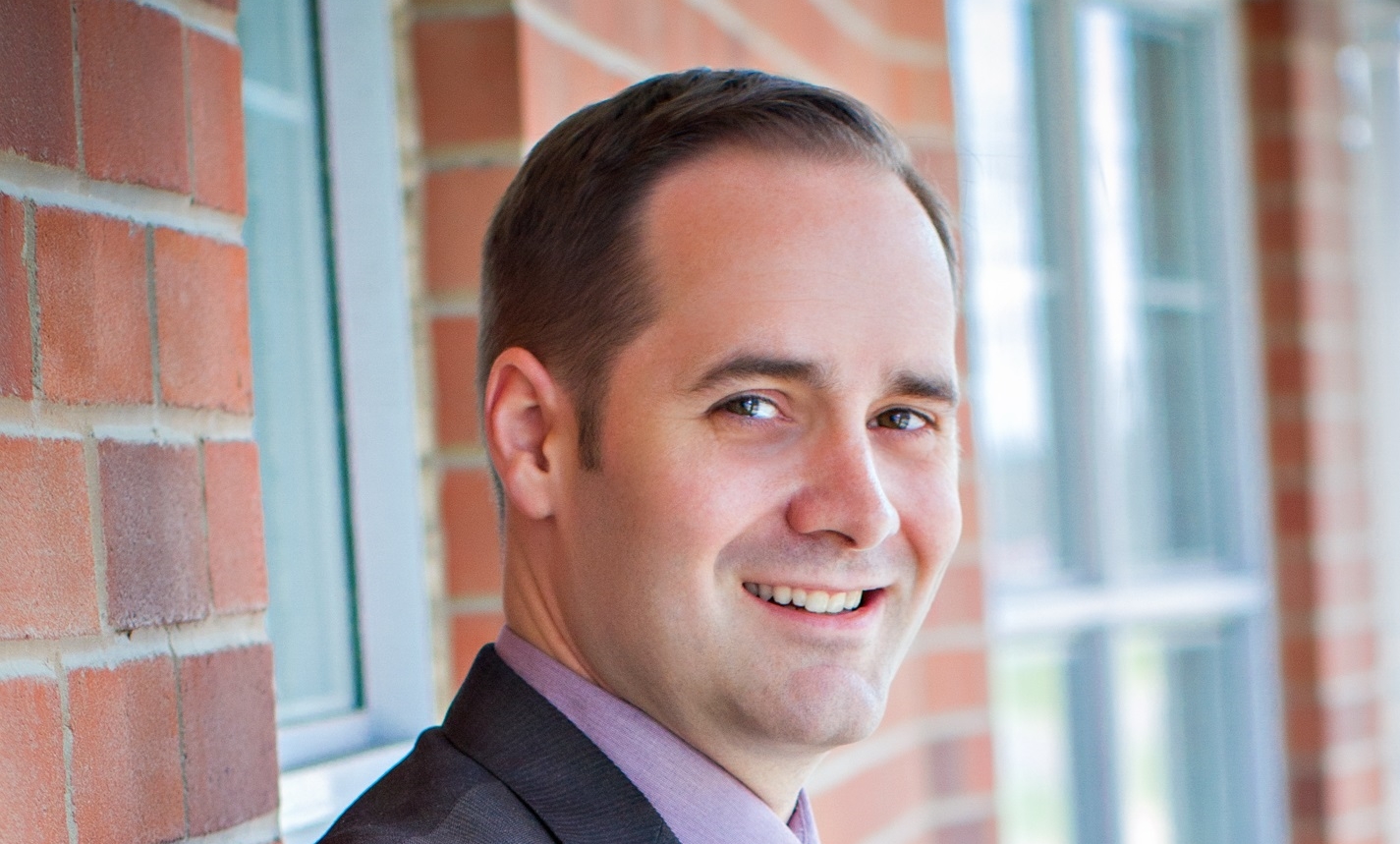 We've known Kevin since Spring 2014. Around November of that year, he told us that he was looking for ways to boost his personal branding.

"I am my product," said Kevin, "and I realized that I needed to put the best image forward when meeting new clients."

Kevin knew the importance of making stunning visual impressions with branding, but his own wardrobe wasn't reflecting this.

Enter Kylie & Jonathan, a male/female personal styling duo.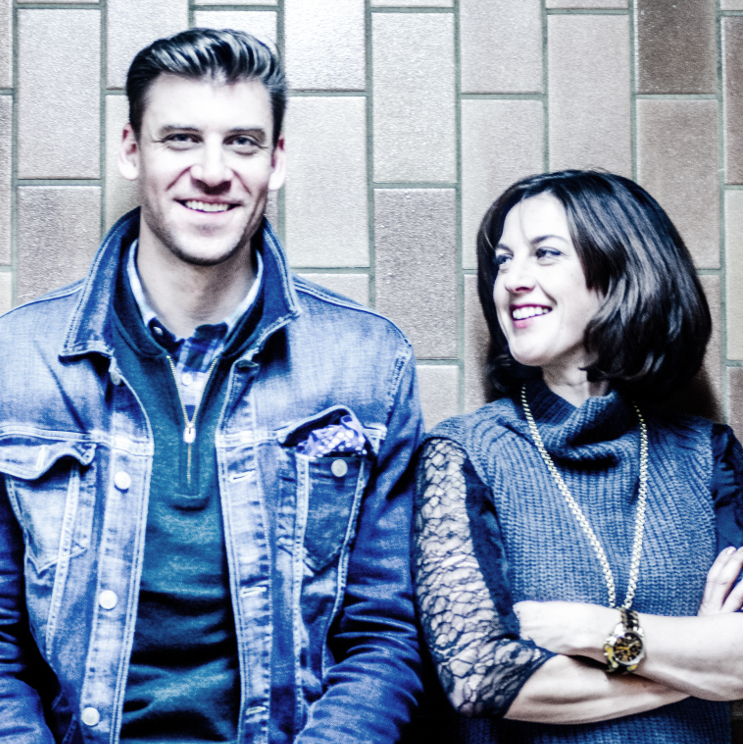 Have you ever watched TLC's What Not To Wear? Kylie and Jonathan give you the same experience. These closet confidants will work from the inside out to empower you to get in touch with your best self through a change of clothes.

As it turned out, Kylie and Jonathan were looking for marketing help. They needed assistance shaping their business story and honing their messaging.

Seeing a synergistic swap, we introduced them. Since Kevin spends lot of time in front of people we knew that professional styling advice would be priceless.

When Kevin heard about trading with style consultants, he was somewhat skeptical.

"It was never on my radar," says Kevin.

Although he looked professional, Kevin was not one to pay attention to the finer details of style; he wasn't dressing to his full potential.

When Kylie, Jonathan and Kevin discussed their mutual business needs, Kevin began to see the light and by the end of the chat both parties were excited to get trading.
Yeah, Let's Trade!
It was a deal: Kylie & Jonathan's style advice for Kevin's branding expertise. Because they were trading services they didn't have to dish out $1,050 in cash to pay for each others' services and each received what they required to grow their business. We helped them hammer out the details of the exchange and they were good to go.

As a customer and consultant, Kevin got to experience Kylie and Jonathan's service from start to finish.

"We worked with Kevin first," says the duo, "which really helped him understand our business and value to clients."

The styling duo visited Kevin's wardrobe and gave him a wardrobe audit. They went through his closet, showing him what already worked and pointing out missing essentials.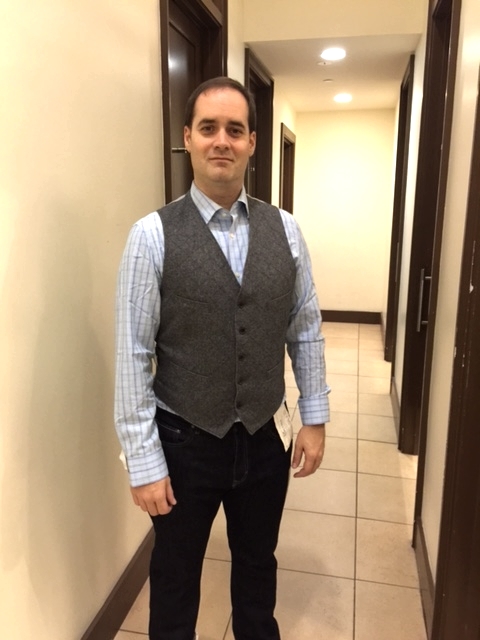 During the closet assessment, Kevin became frustrated with his apparent lack of style sense.

"Why didn't anyone teach me THIS before! I have been shopping for myself for over 25 years."

Kevin spends a lot of time in front of people, on stage, and networking at conferences—feeling confident and looking presentable is worth its weight in gold for him.

After the closet audit, they took Kevin out for a few one-on-one shopping sessions at a mall. As they shopped, they taught him how to choose clothes that supported his professional goals.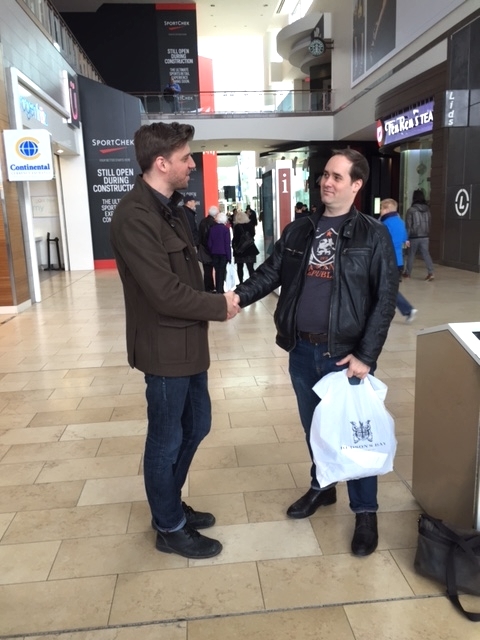 "Our message is that by being conscious and purposeful about what you are wearing everyday, you are developing positive energy and confidence that enables you to reach out into the world," shares the duo.

"They proved their value right while we were at a store," Kevin says recalling the time that a shirt didn't fit and the salesman tried to prove otherwise.

By the end of his time with Kylie and Jonathan, Kevin ended up throwing away half his wardrobe.

Before the swap, Kevin was at a stage in his career where he didn't know about style, but after working with these experts he learned how to choose outfits that will work at networking events. That's a skill he says he will take with him for the rest of his life.
We saw Kevin after his exchange and it was clear he was radiating confidence.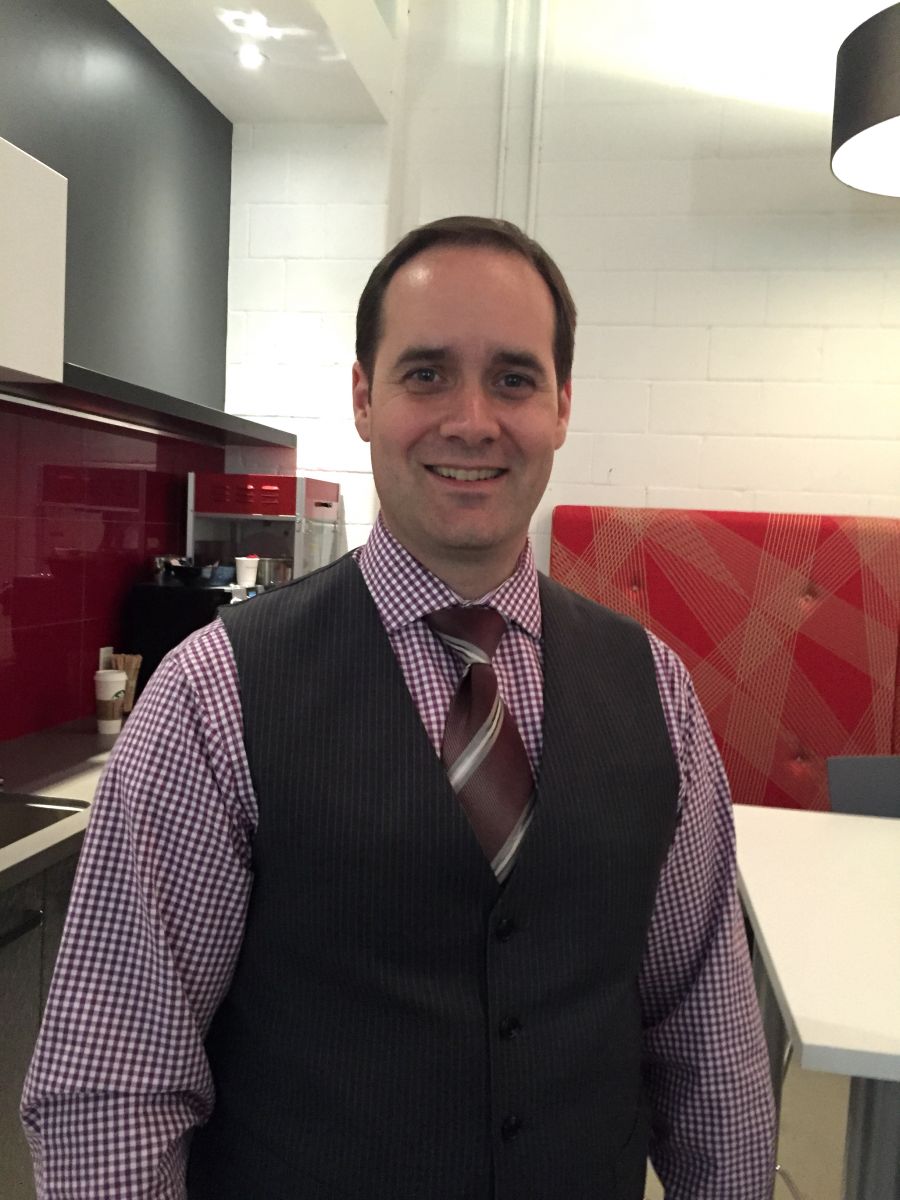 And that's not all! Kevin not only saved his money, he's also now seeing an increase of paying customers thanks to the closet makeover.

"I've had immediate results at the events and conferences I've gone to. I can tell that people see me as more of an authority," says Kevin. "I've actually had people compliment me, which has never happened before. And some of those contacts have turned into paying business."

In fact, when we followed up with Kevin two months later, he shared his revenue from new business—tied to his new image—had increased by $5,000.

"I've found the trade extraordinarily valuable from my end. Just the difference in my outlook to clothing and branding alone has been a huge bonus, and people notice that I'm well put together wherever I go," concludes Kevin.

The Style Gurus Get Their Own Makeover
Once Kevin got to see Kylie and Jonathan work their magic, he was able to help them realize their own brand story, starting by honing value statements that directly address their target clients' pain points.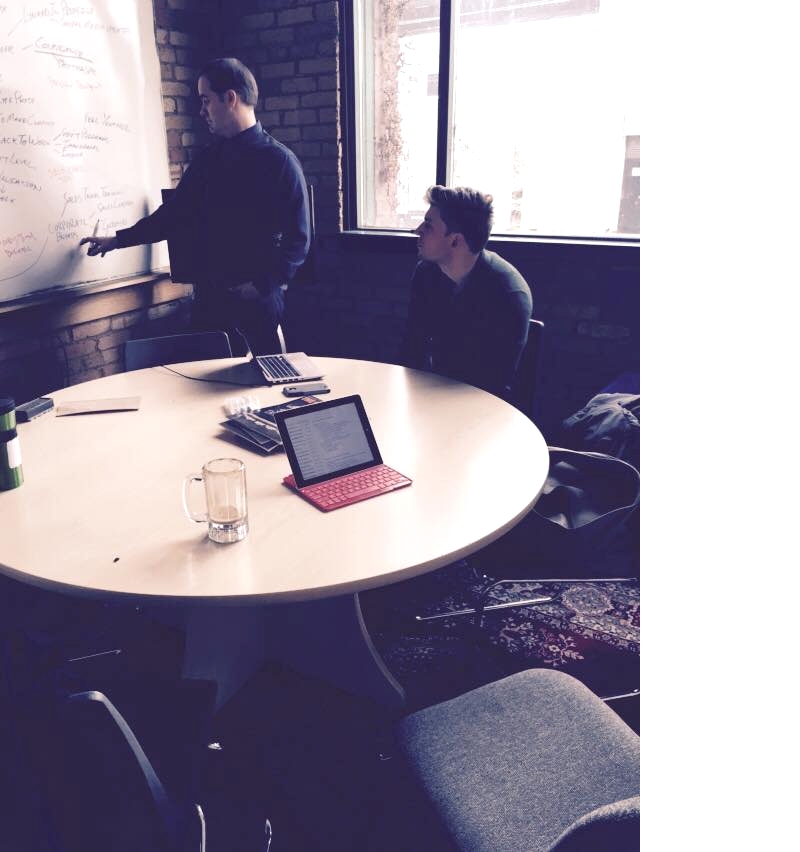 "I worked with them to build a messaging guide, and then used that to build copy for their website and for their sales materials," he says.

"Working with us first really helped him understand our business and value to clients. He got to experience it for himself and it showed in his crafting of our story," recalls Jonathan.

The highlights, say Kylie and Jonathan, were the brainstorming sessions where the three of them got to dive deep into the clients' psyche. Kevin, armed with personal insights due to his own customer experience, gave feedback that they otherwise may not have received. We knew the value of our work, but communicating that to our market is a different story. Having Kevin break down the repercussions of our customers' pain points helped us understand our potential clients on an even deeper level."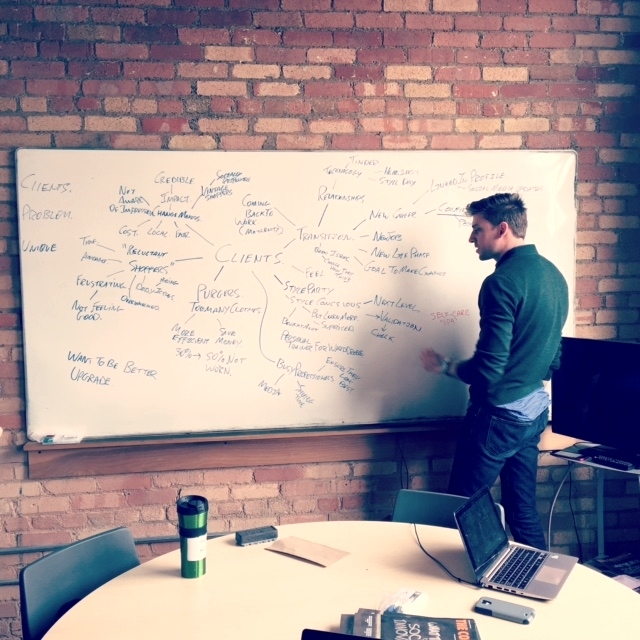 In the end, the exchange allowed them to identify their target market and the most effective way to communicate with them.

"The barter experience with Kevin was a very good one," says the duo.

"Working with him provided us with an understanding of the problems that we are solving for our clients, from their perspective rather than ours. This has allowed us to speak more clearly to potential clients about the benefits they receive when they work with us. It eventually led us to re-vamping our website and we are really happy with those results," shared Kylie and Jonathan.

That clarity has lead Kylie and Jonathan to an increase in sales conversions and gave them the confidence boost to raise their rates in the New Year. Result? Their revenue has grown by 150%.
Both brands are now also better positioned to grasp potential clients' attention in those crucial 7 seconds of first contact.

And let's not forget $1,050 in cash flow savings for both parties.

That's the kind of win-win result we strive for in every swap we arrange. It's about working together to keep costs down, sharing expertise, while helping Toronto's entrepreneurs thrive.

With yet another successful swap, Swapsity B2B has two more swap-savvy businesses who have seen first-hand what a difference adding barter to their business strategy can make.
What does your business need to barter towards success?